Geekscape 585: Geekscape Is Life, Coach!
4 months ago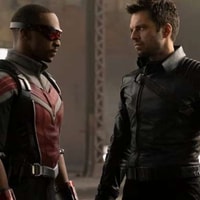 Our friend Gil Baron, Los Angeles comedy producer and all around geek, joins Geekscape this week to go heavy on the comics talk! We discuss DC's Future State, what comics you should be reading right now, the most iconic superhero comics of each decade and more! Gil tells us about producing the online Nowhere Comedy series over Zoom while Katie and I heap praise on Ted Lasso! And at the end of the show we discuss the upcoming 'Falcon and Winter Soldier' series, that mind-boggling 5th episode of 'WandaVision' and Gil explains how he hates multiverses!
Subscribe to Geekscape on iTunes!
Follow Jonathan on Twitter and Instagram!
Join the Geekscape Forever Facebook Group!
Visit Geekscape.net for more Geekscape goodness!
This podcast is powered by Pinecast.