The Geekscape 'Venom: Let There Be Carnage' Special!
Venom is back and that means let there be Ian Kerner!
2 months ago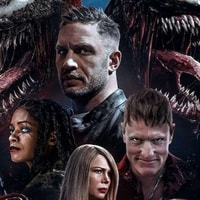 Well, we got that 'Venom' sequel you all wanted so badly... and this time we also got a healthy dose of Carnage as Tom Hardy and Woody Harrelson go head to head in a blockbuster symbiote shuffle! And that also means that Ian Kerner and I are going to go head to head on 'Venom: Let There Be Carnage' in a new Geekscape Special! Does the sequel step up? Does it expand the Sony Spider-Manless Spiderverse? And what about that end credits tag? It's all here in a brand new Geekscape Special! Let there be Geekscape!
Subscribe to Geekscape on iTunes!
Follow Jonathan on Twitter and Instagram!
Join the Geekscape Forever Facebook Group!
Visit Geekscape.net for more Geekscape goodness!
This podcast is powered by Pinecast.