Geekscape 607: 'Electric Jesus' Filmmaker Chris White!
Learn about one of my favorite films of the year!
1 month ago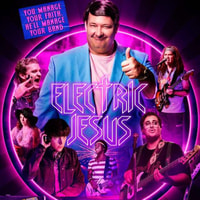 Filmmaker Chris White has directed one of my favorite films of the year: the Christian Metal dramedy 'Electric Jesus'! The film stars 'The Office's Brian Baumgartner and a cast of fantastic up and comers and is filled with equal parts music, comedy and coming of age charm. We'll talk to Chris on a brand new Geekscape podcast about the autobiographical origins of the film, discovering the unknown cast and putting together an incredible indie film!
Watch the trailer for 'Electric Jesus'!
Subscribe to Geekscape on iTunes!
Follow Jonathan on Twitter and Instagram!
Join the Geekscape Forever Facebook Group!
Visit Geekscape.net for more Geekscape goodness!
This podcast is powered by Pinecast.