The Geekscape 'The Falcon And The Winter Soldier' Special!
Ian Kerner returns and there's a LOT to discuss!
3 months ago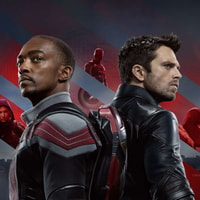 Marvel's 'The Falcon And The Winter Soldier' miniseries is all wrapped up on Disney+ and so it's time to break it down with Ian Kerner! From John Walker to Baron Zemo to Isaiah Bradley and the multiple themes and characters from across the MCU, what were the best parts? What storylines from other MCU shows spin-off from the events in Episode 6? Where will we see Baron Zemo again? With 'Captain America 4' announced... what might we be looking forward to? Will there be a Secret War coming up? Who are the Thunderbolts? Are we looking at more time travel or a Dark Avengers? There's a lot to discuss so let's get to it!
Subscribe to Geekscape on iTunes!
Follow Jonathan on Twitter and Instagram!
Join the Geekscape Forever Facebook Group!
Visit Geekscape.net for more Geekscape goodness!
This podcast is powered by Pinecast.