Geekscape Spotlight: Nick Scown, Co-Director of 'Too Soon: Comedy After 9/11'
Nick Scown returns to the show with a fantastic new film that pays tribute to 9/11!
3 months ago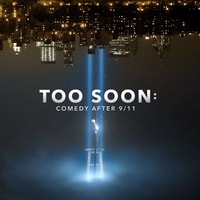 We all remember where we were on 9/11... but in the weeks following, do we remember how we felt? And maybe more importantly, did we remember when the laughter returned to our lives? Did it feel like it was "too soon"? Looking towards the 20th anniversary, join me and one of my closest friends, filmmaker Nick Scown, as we talk about his new film 'Too Soon: Comedy After 9/11', premiering next week from Vice TV. Featuring comedians and actors like David Cross, Marc Maron, Janeane Garofalo, Nathan Lane, Matthew Broderick and many more, the film explores the return of comedy after 9/11 and asks the question, when are the jokes "too soon"?
Subscribe to Geekscape on iTunes!
Follow Jonathan on Twitter and Instagram!
Join the Geekscape Forever Facebook Group!
Visit Geekscape.net for more Geekscape goodness!
This podcast is powered by Pinecast.