Geekscape 604: We're Rom-Communists!
Enjoy a whole new batch of news and reviews!
3 months ago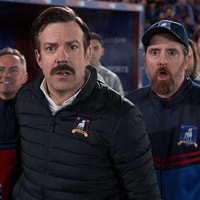 It's time for some classic Geekscape-style news and reviews! Katie, Matt and Shane join me on a brand new episode to defend 'Ted Lasso' Season 2, analyze the new 'Spider-Man: No Way Home' trailer for any sign of Mephisto and tell you that 'Marvel's What If...?' is going to matter in the long run! Along the way we roast Shane for being late, spread the love, talk some comics and Matt shares some horror stories from actual horror conventions that make the actual horror movies pale in comparison! Enjoyables, Geekscapists!
Subscribe to Geekscape on iTunes!
Follow Jonathan on Twitter and Instagram!
Join the Geekscape Forever Facebook Group!
Visit Geekscape.net for more Geekscape goodness!
This podcast is powered by Pinecast.