Geekscape 586: Grant Pardee Joins The Party!
4 months ago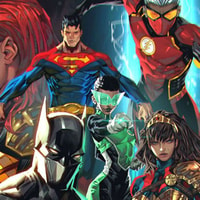 Geek Extraordinaire Grant Pardee joins this week for a mega download of news and reviews! We continue to discuss if DC's 'Future State' lineup should be on your pull list and talk about the issues of digital comics platforms. We're ALL excited about the upcoming Superman 78 and Batman 89 comics! Do we think Nintendo will have a Zelda announcement for its 35th Anniversary? And what are the joys of 3D Mario games and our hopes for Starfox and Metroid? And what are we learning after that most recent 'WandaVision' episode? PLUS! Geekscapist Ian Raney debriefs us on last weekend's Geekscape speed dating event! It's all here and more so enjoy!
Subscribe to Geekscape on iTunes!
Follow Jonathan on Twitter and Instagram!
Join the Geekscape Forever Facebook Group!
Visit Geekscape.net for more Geekscape goodness!
This podcast is powered by Pinecast.