The Geekscape 'The Suicide Squad' Special
3 months ago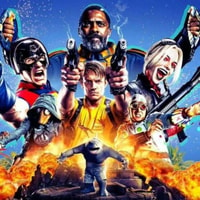 'Guardians of the Galaxy' director James Gunn is back with DC's 'The Suicide Squad'! But is it a sequel to 2016's Will Smith starring 'Suicide Squad'? I guess it's time for Ian Kerner to join me for a a brand new Geekscape special to break it all down! How does this match up to 2016's David Ayer directed 'Suicide Squad'? What characters are back? Who are the new faces? Is 'King Shark' your favorite addition? Maybe it's Polka Dot Man? Or Peacemaker? Is this the best version of Harley Quinn on film? Jonathan's favorite DC villain is finally on screen and what's up with that HBO Max 'Peacemaker' series they've been filming? And of course... where does this leave the DCEU? Also! Ian and I pick who we'd like to see on the NEXT Suicide Squad! There's lots to talk about on this one but don't worry! Geekscape's got you covered!
Subscribe to Geekscape on iTunes!
Follow Jonathan on Twitter and Instagram!
Join the Geekscape Forever Facebook Group!
Visit Geekscape.net for more Geekscape goodness!
This podcast is powered by Pinecast.