Geekscape 601: Comics Talk With Tom Pinchuk!
We talk comics, Tom's history with angry fans and that new Masters of the Universe show!
4 months ago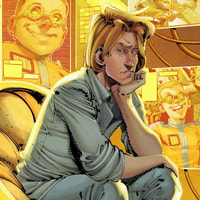 Get ready to hear some comics talk because writer Tom Pinchuk is back on the show to discuss his new book 'Remember Andy Xenon?' Fans are angry with the new Kevin Smith 'Masters of the Universe' series on Netflix and Tom has some insight after working on reboots of Ben 10 and Max Steel! We also discuss legendary one issue stories like Alan Moore's 'Superman: Whatever Happened To The Man Of Tomorrow' and shower love on Avengers legends Kurt Busiek and George Perez! And finally I implore you to go see Nicholas Cage in the art house film 'Pig'! Really! Nicholas Cage is great and the film is beautiful!
Subscribe to Geekscape on iTunes!
Follow Jonathan on Twitter and Instagram!
Join the Geekscape Forever Facebook Group!
Visit Geekscape.net for more Geekscape goodness!
This podcast is powered by Pinecast.