The Geekscape 'What If...?' Season One Special!
1 month ago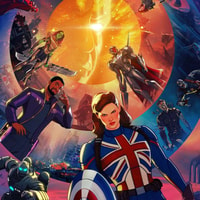 Marvel's animated 'What If...?' just wrapped up so what if we dropped a new Geekscape podcast on all of you where Ian Kerner and I talk about it? Did this series meet expectations? What were the big surprises? What does it mean for the larger MCU? Will there be live action cross over? Will we get more zombies? And what should we expect from the announced 'What If...?' Season Two? It's all here on a new live Geekscape!
Subscribe to Geekscape on iTunes!
Follow Jonathan on Twitter and Instagram!
Join the Geekscape Forever Facebook Group!
Visit Geekscape.net for more Geekscape goodness!
This podcast is powered by Pinecast.