Geekscape 588: 'Stargirl' Actor Lou Ferrigno Jr.!
3 months ago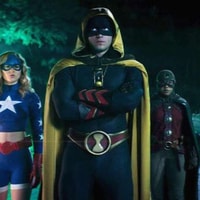 'S.W.A.T.' and 'Stargirl' actor Lou Ferrigno Jr. joins us to talk about his new film 'Dreamcatcher', coming out this Friday! Along the way, we talk about his fitness journey and what advice he has for Geekscapists looking to get fit coming out of the pandemic! Lou also talks about being raised by The Incredible Hulk and painting his superhero artwork! This is a fun, Jockscape filled episode so enjoy!
Subscribe to Geekscape on iTunes!
Follow Jonathan on Twitter and Instagram!
Join the Geekscape Forever Facebook Group!
Visit Geekscape.net for more Geekscape goodness!
This podcast is powered by Pinecast.