Geekscape 582: Jason Inman Is Our Super Best Friend!
5 months ago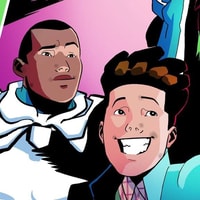 Jason Inman is back on the show to talk about his brand new comic book project 'Super Best Friend'! Along the way we talk Superman and sidekicks, the mistake of posting anything on the internet and Sasquatch hunting! We also talk about the first two episodes of 'WandaVision' and give you our best comic book recommendations! And did YOU know that the Masters of the Universe movie was just a reworked Jacky Kirby script? There's lots to enjoy in this episode!
Check out Super Best Friend on Kickstarter!
Subscribe to Geekscape on iTunes!
Follow Jonathan on Twitter and Instagram!
Join the Geekscape Forever Facebook Group!
Visit Geekscape.net for more Geekscape goodness!
This podcast is powered by Pinecast.