Geekscape 602: YA Author Erik J. Brown!
And Jonathan goes off on 'Snake Eyes'... a bit.
2 months ago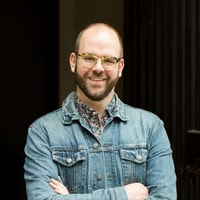 Let's talk YA fiction! This week's guest Erik J. Brown (he/him) is a YA writer based in Philadelphia, PA! His debut Young Adult novel 'All That's Left In The World' will be published in early 2022 by HarperColllins/Balzer+Bray. We talk about the post-apocalyptic, queer storyline and how it was inspired by 'The Walking Dead'! Along the way, I tell Katie about getting bit by 'Snake Eyes' and share my love for Dev Patel and all of the actors in 'The Green Knight'.
Subscribe to Geekscape on iTunes!
Follow Jonathan on Twitter and Instagram!
Join the Geekscape Forever Facebook Group!
Visit Geekscape.net for more Geekscape goodness!
This podcast is powered by Pinecast.