Geekscape 598: Celebrating 80s Kid's Movie Nostalgia!
'Geek' Filmmaker Benjamin Cooper joins us to talk the Golden Age of Kids Movies!
3 months ago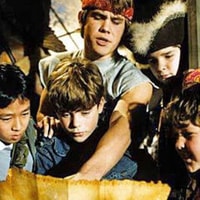 The Goonies, E.T., The Explorers, The Monster Squad... Most of us grew up in the golden age of kids movies! But where are the modern day version of those films that told us that you can get into as crazy an adventure as you want and you still won't get yourself killed? On this week's Geekscape, we're talking to 'Geek' director Benjamin Cooper about the golden age of kids films, how 'Geek' is similar and also unique and how starting as a horror director got him to this point! Of course we'll be talking some more news and reviews as well so drop in for the conversation! Support 'Geek' on Kickstarter right here - [http://geekthemovie.com/](http://geekthemovie.com/)
Subscribe to Geekscape on iTunes!
Follow Jonathan on Twitter and Instagram!
Join the Geekscape Forever Facebook Group!
Visit Geekscape.net for more Geekscape goodness!
This podcast is powered by Pinecast.