Geekscape 596: Matt's High School Punk Band!
And a classic news and reviews round up!
4 months ago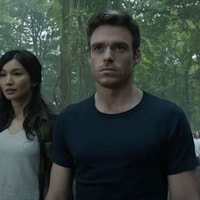 It's time for a classic News and Reviews Geekscape! Katie, Matt and Derek join me to talk about that new 'Eternals' trailer and who the Eternals are, Katie and Matt love on 'Mare of Easton' and Derek got his first vaccine shot! Mikaela and Derek are prepared for 'Sweet Tooth' to hit Netflix this week and Matt introduces us to his high school punk band Off The Wall. Really, just listen to this episode to hear our reactions. This episode is ridiculous.
Subscribe to Geekscape on iTunes!
Follow Jonathan on Twitter and Instagram!
Join the Geekscape Forever Facebook Group!
Visit Geekscape.net for more Geekscape goodness!
This podcast is powered by Pinecast.