Geekscape 590: Fantasy Author Barbara V. Evers!
Are you ready to talk psychic giraffes?
4 months ago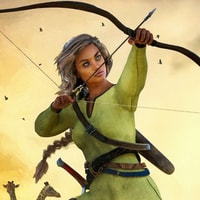 Fantasy author Barbara V. Evers joins us this week to talk about her new trilogy of fantasy novels, beginning with book one: 'The Watchers of Moniah'. During our conversation we discuss the long time that it took to write all three books in the series, what gave her inspiration and how her love of giraffes made their way into the story! Barbara is also Heidi's mom so I waste no time embarrassing myself as we try to put Heidi on the spot with a Watchers of Moniah themed quiz! How well did she do? Well, I'm pretty sure I'm the one that failed but you'll have to listen to find out!
Find out more about the Moniah series on Barbara's website!
Subscribe to Geekscape on iTunes!
Follow Jonathan on Twitter and Instagram!
Join the Geekscape Forever Facebook Group!
Visit Geekscape.net for more Geekscape goodness!
This podcast is powered by Pinecast.