Geekscape 591: The Geekscape All News All Action Team Up!
7 months ago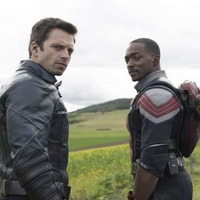 After a one week hiatus, Geekscape is back! Katie and I are fully vaxxed and ready for that post pandemic life... although Katie didn't exactly get what she bargained for! Katie talks about escaping 'The Room' in VR and using the super soldier serum to defeat Beat Saber while Jonathan tells you about the indie comics you should be buying! We discuss the amazingness that is Amazon Prime's 'Invincible' series and our favorite 'Falcon and the Winter Soldier' moments and theories so far! Katie gets offered the role of a lifetime and I share the silly insanity that is 'Kong vs Godzilla'! It's a PACKED episode so enjoy!
Subscribe to Geekscape on iTunes!
Follow Jonathan on Twitter and Instagram!
Join the Geekscape Forever Facebook Group!
Visit Geekscape.net for more Geekscape goodness!
This podcast is powered by Pinecast.